| | |
| --- | --- |
| | |
Will Ye No Come Back Again?
Arranged by
Mark G. Sirett
Voicing: SATB
Instrumentation: piano
Catalog number: AMP 0391
Price: $2.40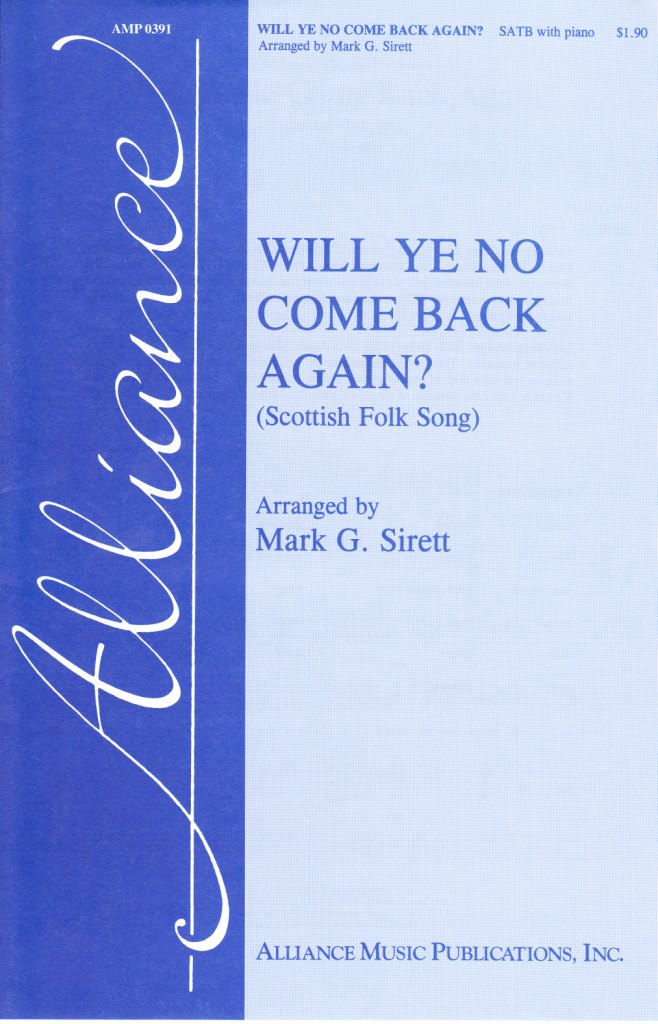 "Will Ye No Come Back Again?" is one of Scotland's favorite songs that commemorate Charles Edward Stuart, better known as Bonnie Prince Charlie (1720-1799). He led the Second Jacobite Rebellion in 1745 hoping to restore the Stuarts to the throne of England and Scotland. After numerous victories, he was defeated at the battle of Culloden and eventually escaped to France.
Over the centuries, "Will Ye No Come Back Again?" has become a parting song for many different occasions. This particular arrangement was written in memory of the arranger's sister-in-Iaw who died of cancer shortly before its premiere. The Cantabile Choirs of Kingston, under the direction of Dr. Sirett, premiered this arrangement on March 6, 1999.
GLOSSARY
canna
gloomin
kent
lav' rock's
puir, puirer
lang
maun
ae
siller
sang
aye
cannot
twilight
knew
lark's
poor, poorer
long
must
one
silver
song
always