Arranged by
William Hunt
Voicing: TTBB
Instrumentation: piano
Catalog number: AMP 0386
Price: $1.90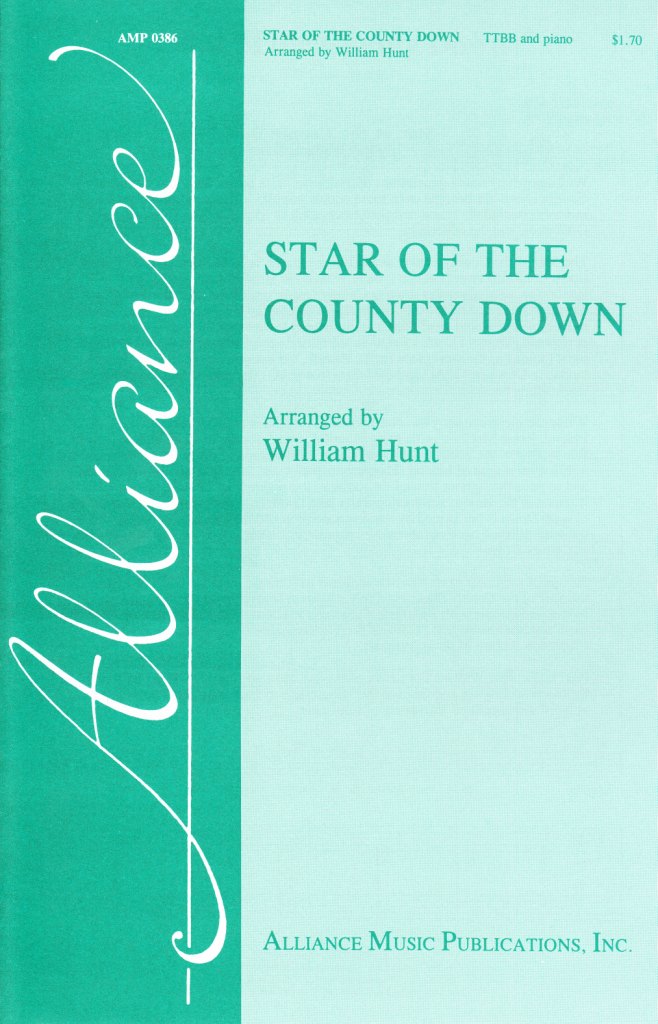 Star of the County Down
Editorial notes by Ray Wallace, D.A.
Well-known by many generations of traditional Irish music fans, the Star of the County Down has become even more widely popular with recent renditions by more internationally renowned performers such as Van Morrison, Sinead O'Connor, and the Chieftains.
The Star of the County Down, as the lyrics suggest, is Rosie McCann, the fairest (most beautiful) sweet colleen (young woman) in all of Ireland. Rosie lives in Banbridge, a small market town in County Down, one of the six counties in Northern Ireland. The town of Banbridge is located on the main road from Belfast to Dublin, and would have been a major market town when this piece was first performed. County Down, located on the northeastern coast of Ireland is perhaps most famous as the workplace for St. Patrick, the patron saint of Ireland. Patrick landed in Down in 432AD and died there in 461AD after completing missionary work. He is buried in Downpatrick, County Down.
While the piece certainly has Northern Irish roots, it is popular throughout all of Ireland. Rosie McCann is the most beautiful young woman in all of Ireland --from Bantry Bay in the South to the Derry Quay, a reference to Londonderry in the northernmost area of Ireland. The piece is performed in school orchestras, choirs, and in pubs throughout Ireland. In addition, it is a perennial favorite among Irish listeners at the various summer concerts held throughout the country; the Star of the County Down is performed by various accordion and flute marching bands, and in the various brass band concert series popular in Ulster. It is of course very popular in County Down!
As one of the finest examples of traditional Irish music from the north of Ireland, the Star of the County Down is widely known in several instrumental and vocal forms, and is sung with a number of textual variations. One variation of the tune is used with the sacred text 0, Sing a Song of Bethlehem, which appears in the Christmas section of many hymnals.
NOTE: Dr. Ray Wallace is a native of Belfast, Northern Ireland. He is currently Professor of English and Head of the Department of Language and Communication at Northwestern State University of Louisiana.