Arranged by
Christopher Marshall
Series Editor:
Lawrence Kaptein
Voicing: SATB
Instrumentation: a cappella
Catalog number: AMP 0100
Price: $1.90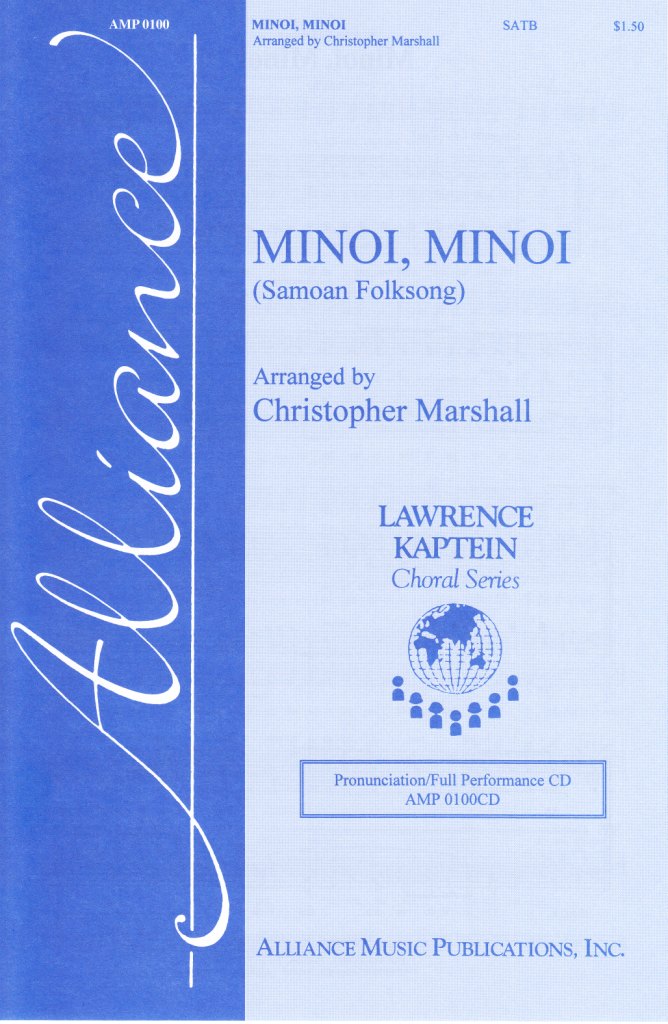 MINOI, MINOI
arranged by Christopher Marshall
Samoa consists of a chain of volcanic islands located in the South Pacific, comprising two political entities: Western Samoa and American Samoa. Western Samoa, a colony first of Germany and then of New Zealand, gained independence in 1962. American Samoa is a protectorate of the United States.
Intensely proud of their language and customs, Samoans have assimilated many aspects of European culture including Christianity and Western music. Over the past one hundred and fifty years, these have acquired a uniquely Samoan character.
Music and dance permeate nearly all aspects of Samoan life. From birth, children are immersed in a rich musical environment that includes music-making in the work place, in ceremony, and in most recreational activities. "Minoi, Minoi" is a dance song incorporating synchronized group movements. Such songs are usually of a light-hearted nature with the words dictating the actions. Images of food often combine with romantic subject matter, resulting in subtle double meanings.
PRONUNCIATION GUIDELINES
Samoan vowels are similar to Italian vowels. The letter "g' is always pronounced as the 'ng' in 'sing.' The apostrophe (') denotes a gentle glottal stop, as in the English exclamation 'oh-oh.' A diphthong is usually split when it occurs over two notes. When a diphthong is sustained on one pitch, it is the second vowel that is sustained (unlike in English). It is rare to hear a true dotted rhythm in Samoan music; when it is notated, it should be performed as a triplet. The audio tape (with pronunciation by a Samoan native speaker) can be very helpful in clarifying most pronunciation questions.
TRANSLATION

Move, move like an ant when you dance,
Swaying from side to side,
Dipping into rich coconut cream,
As sweet as baked fruit,

Ah, my pigeon,
Crying out to me,
I wish you could keep dancing like that,
So move, move, move my darling


Christopher Marshall
University of Otago
Dunedin, New Zealand
Lawrence Kaptein
University of Colorado
Boulder, Colorado