Your Haughty Heart
Composed by Anonymous
Edited by
Linda Allen Anderson
Series Editor:
Linda Allen Anderson
Voicing: SATB
Instrumentation: a cappella
Catalog number: AMP 0077
Price: $1.80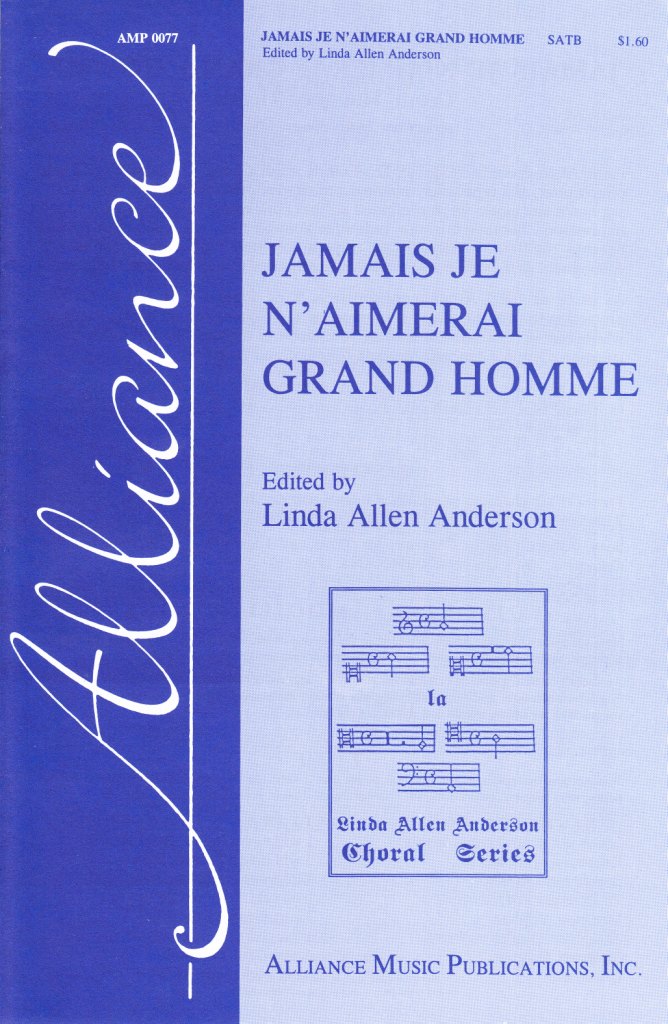 JAMAIS JE N'AIMERAI GRAND HOMME
(Your Haughty Heart)

performance time: approx. :40/ verse
Pierre Attaingnant (c. 1494-c.1552), a French music printer, publisher, bookseller, punchcutter, and typecaster, invented a method of printing music in which staff- segments and notes were combined so that both could be printed in a single impression. Because this new technique allowed the cost to be cut in half, it became the initial international system of music printing, establishing Attaingnant as the first music publisher to achieve a true mass-production.
As early as 1527, Attaingnant's patron, King Francis I, issued him royal protection to prevent others from copying the contents of his books, many of which contain chansons of leading composers of the time, including Sermisy, Janequin, Certon, Gombert, Arcadelt, Verdelot, and Willaert.
"Jamais je n'aimerai grand homme," an anonymous Parisian chanson, is included as No.33 in THIRTY-SIX MUSICAL SONGS IN FOUR PARTS, published by Attaingnant in 1530.
SOURCE
Trente et six chansons musicales it quatre parties imprimees a Paris par Pierre
Attaingnant. ..1530 (Paris, B. N., Res. Vm. 7,177, No.33)

Seay, Albert. Thirty Chansons for Three and Four Voices from Attaignant's
Collections. Yale University, 1960. (No.17, p. 68)
EDITORIAL MODIFICATIONS
Note values are halved. An E-flat is added to the key signature, with additional musica ficta (F-sharp as appropriate) inserted within the score and parts. A fermata is placed above the final note.
An incipit (transcription of original notation), a piano reduction, numbered measures, a literal English translation, and a singable English version are provided by the editor. All editorial suggestions regarding tempo and dynamics are bracketed.
TEXT
This edition incorporates the original poem and a singable English version prepared by the editor, who suggests performing the chanson twice--first in French, then in English.
ORIGINAL POEM LITERAL TRANSLATION
Jamais je n' aimerai grand homme,
J'aimerai un petit homme,
Le petit serre de près,
Tu disais quel'en mourrais,
Mellteuse, fâcheuse,
Et tu disais que j'en mourrais,
Menteuse, fâcheuse,
Que tu es.
I will never love a haughty man,
I will love a humble man,
This young man cuddles so close,
You said that I would tire of it,
Untruthful, deplorable,
And you said that I would tire of it,
Untruthful, deplorable,
That's what you are.