Composed by
Laura Farnell
Voicing: SSA
Instrumentation: piano, opt. handbells
Catalog number: AMP 1102
Price: $2.10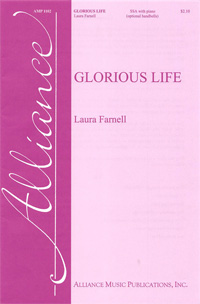 To see and listen on YouTube, click here
Glorious Life
The text for "Glorious Life" is taken primarily from the poem, "Life&rdfquo;, by American writer Hildegarde Hawthorne (1871-1952), the granddaughter of author Nathaniel Hawthorne. She was well-known for stories of the supernatural and ghosts, but "Life" is full of energy and is centered around the theme of carpe diem, the Latin phrase, "seize the day". The poem encourages the reader to make the most of life, especially when faced with trials or difficulties.
The lyrical middle section is based on one of Robert Herrick's (1591-1674) most famous poems, "To the Virgins, to Make Much of Time", another work referring to carpe diem. Herrick was inspired by the Latin phrase, "collige, virgo, rosas" (gather, girl the roses), which comes from yet another poem, "De rosis nascentibus", attributed to Ausonius or Virgil.
Finally, the text, "Life is either a daring adventure or nothing at all", is a paraphrase of a quote by Helen Keller, American author and political activist. These words are especially inspiring and poignant, coming from a woman who was born both deaf and blind.
The dissonances in the A section are meant to depict the poetry's theme of straining and strife, while the broad and sweeping melodic choral lines, along with the energetic accompaniment, convey strength and courage in the face of challenges. The lyrical B section is more contemplative and should be performed expressively while listening for the single tolling bell note, in the optional handbell part, which depicts the passing of time.
Sing this piece with energy and express the meaning of the rich poetry with your voice and facial expressions.
L.F.
Life
Give me the strength and height

Of glorious life;

The dazzling light,

The straining and the strife,

Love, passion, hope, In their divinest scope.

High winds on mighty seas

Not sheltered bay;


The storm that frees
Wild torrents great and gay

With sudden power;
Not the soft springtime shower.

And if the storm should kill
The torrent drown?
So be it still.

Still let me snatch the crown
Life has to give

And cry, but once, I live!
recording performed by Princeton Girl Choir
Hilary K. Butler, director
Princeton, New Jersey