Composed by
Colin Britt
Series Editor:
Simon Carrington
Voicing: SSAA a cappella
Catalog number: AMP 1071
Price: $2.10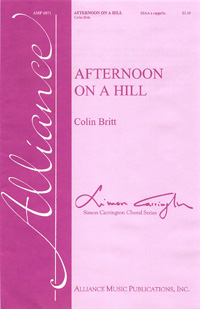 Afternoon On A Hill
I am delighted we now have this upper voice version of Colin Britt's exquisite setting of Millay's touching poem in my series. It requires a flexible tempo with plenty of gentle rubato to give the effect of a poem being spoken by an accomplished orator. Care should be taken to maintain excellent chordal balance however the voices are divided. In measures 33-; 34 and 37-38 Colin's "small notes" make quite a difference to the texture; try and add them if you can! Be careful also not to allow too much of any one voice part where the parts combine again after having been divided.
Simon Carrington
recording performed by San Francisco Girls Chorus Counselor Choir
Arianne Abela, director
San Francisco, California