Arranged by
Stewart C. Duncan
Series Editor:
Simon Carrington
Voicing: SATB a cappella
Catalog number: AMP 1036
Price: $2.30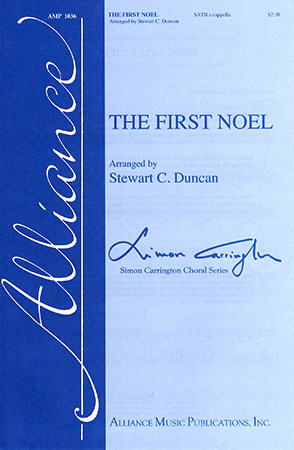 about the music:
In arranging The First Noel, I wanted to create a setting that captured the serenity, wonder, and power of that night. The piece is at times calm, unassuming, and austere, and at others emphatic, bold, and triumphant. Fresh and colorful harmonies punctuate what is ultimately a clear presentation of the original melody, shared among all parts, developing into a rich and full texture by the end, capped with a soaring soprano solo.
Directors should seek a sound that is flexible and nuanced in both dynamics and tempo, exploring the different moods that appear throughout the piece.
- Stewart Duncan
I am delighted to have two original Christmas pieces in my series: this imaginative treatment of a favourite carol for unaccompanied choir by Stewart Duncan, and John Corina's This Endris Night for choir and flute (AMP 0895). Both make sensitive and tasteful contributions to familiar Christmas themes.
- Simon Carrington
about the composer:
Stewart Duncan is a composer based in Bloomington, Indiana, where he is studying as a Doctoral Fellow in Musicology at the Jacobs School of Music, University of Indiana. More information on his works may be found at stewartcduncan.wix.com/composer.