Composed by Stephen Smith
Voicing: SSAA
Instrumentation: piano
Catalog number: AMP 1018
Price: $2.20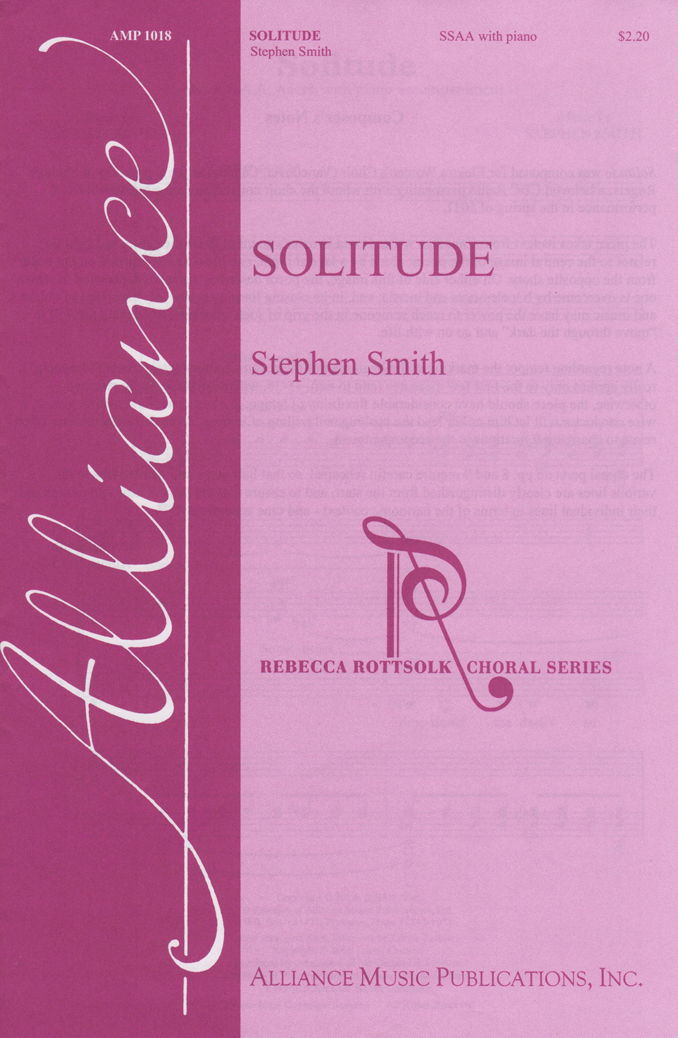 Composer's Notes
Solitude was composed for Elektra Women's Choir (Vancouver, Canada) at the suggestion of Shelagh Rogers, a beloved CBC Radio personality with whom the choir collaborated on a multimedia performance in the spring of 2011.
The piece takes its text from Canadian writer Lorna Crozier's poem of the same name, and the title relates to the central image of the poem: alone by a lake at night, one hears sounds carried on the water from the opposite shore. On either side of this image, the poem describes a state of depression in which one is overcome by hopelessness and inertia; and, in its closing lines, suggests that the sound of voices and music may have the power to reach someone in the grip of such emotions, awakening the will to "move through the dark" and go on with life.
A note regarding tempo: the marking at the beginning of the accompaniment, strascinato ("dragging"), really applies only to the first few measures (and to mm. 35὜38, where the same music returns): otherwise, the piece should have considerable flexibility of tempo. If blessed with a sensitive pianist, a wise conductor will let him or her lead the pushing and pulling of tempos, since these fluctuations often relate to changing figurations in the accompaniment.
The choral parts on pp. 8 and 9 require careful rehearsal, so that half὜steps and whole-steps in the various lines are clearly distinguished from the start, and to ensure that the singers hear and understand their individual lines in terms of the harmonic context ὜ and tune accordingly!
Stephen Smith
August 2015
lyrics by Lorna Crozier
recording performed by Mirinesse Women's Chorus
Seattle, Washington
Rebecca Rottsolk and Beth Ann Bonnecroy, Artistic Directors