Composed by
Ivo Antognini
Voicing: SATB a cappella
Catalog number: AMP 0924
Price: $2.00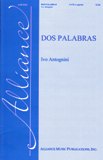 Alfonsina Storni (1892 – 1938) was born in Ponte Capriasca, a small village in Ticino (Switzerland) which is 15 km from where I live. When she was four, her family moved to Argentina where she soon began writing poems.

Alfonsina lived an unconventional and adventurous life punctuated by difficulties and misfortunes. She was a teacher, actress, journalist, writer and single mother who faced the many challenges and prejudices of twentieth–century Buenos Aires.

In the summer of 1935, she found out that she had breast cancer and was treated with surgery, but the disease continued to spread. In 1938, in Mar del Plata, she committed suicide by walking into the ocean and drowning.



"Dos Palabras" is an extraordinary love poem that I've translated into music, trying to preserve all the sensuality, the passion and the freshness which is evident in the poem.



Ivo Antognini


Dos palabras


Esta noche al oído me has dicho dos palabras
Comunes. Dos palabras cansadas
De ser dichas. Palabras
Que de viejas son nuevas.

Dos palabras tan dulces que la luna que andaba
Filtrando entre las ramas
Se detuvo en mi boca. Tan dulces dos palabras
Que una hormiga pasea por mi cuello y no intento
Moverme para echarla.

Tan dulces dos palabras
Que digo sin quererlo – oh, qué bella, la vida –
Tan dulces y tan mansas
Que aceites olorosos sobre el cuerpo derraman.

Tan dulces y tan bellas
Que nerviosos mis dedos,
Se mueven hacia el cielo imitando tijeras.
Oh, mis dedos quisieran
Cortar estrellas.


Two Words


Tonight you murmured two simple words
into my ear. Two words shopworn
from use. Words so old, they are new.

Two words so sweet the moon
floating beyond the trees' branches
pauses to fill my mouth. Words so
melodious, when an ant inches up my neck,
I make no move to brush it off.

A pair of words so sweet that despite
myself I say "How lovely life is."
Calming, gentle, they are like
scented oils poured over my body.

So sweet and beautiful
and my nervous fingers
rise toward heaven in
imitation of scissors.
Yes, tonight my fingers
would cut out the stars.




2010 Vanguard Premieres Choral Composition Contest – Honorable Mention
2010 International Choral Composition Competition "Seghizzi" – finalist
2010 International Choral Composition Contest "Guido D'Arezzo" " Honorable Mention



recording performed by Salt Lake Choral Artists
Salt Lake City, Utah
Brady Allred, artistic director and conductor