Composed by Johann Michael Haydn
Edited by
Martin Banner
Voicing: SATB
Instrumentation: keyboard, *optional instrumental Score
Catalog number: AMP 0921
Price: $2.30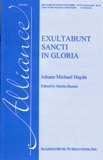 Johann Michael Haydn (1737–1806) was an acclaimed and respected composer during his lifetime. Born in Rohrau, near the Austrian–Hungarian border, Haydn was a talented young singer in the famed Vienna Boys Choir. He was appointed as Kapellmeister at the court of Grosswardein (now in Hungary) in 1757. Haydn served the Archbishop of Salzburg from 1763 until his death. A prolific composer, he wrote hundreds of compositions including a Requiem, which influenced the more famous setting by Mozart.

EXULTABUNT SANCTI IN GLORIA (MH370) was completed by Haydn on June 6, 1784 in Salzburg. This edition is based upon the autograph score, preserved in the music archive of the Bayerische Staatsbibliothek in Munich: Mus. mss. 444. The score is laid out over ten pages, eight staves per page. The top of the first page of the manuscript reads as follows: Graduale in festo SS. Viti, Modesti et Martyrum/ di G.M. Haydn mpia.. This composition is scored for SATB choir, two horns in G, two violins, cello, bass and continuo.
Latin
English
Psalm 149:5
Exultabunt sancti in Gloria
laetabuntur in cubilibus suis.
The saints will rejoice in glory,
they will be joyful in their beds.
Psalm 149:1
Cantate Domino canticum novum
laus ejus in ecclesia sanctorum
Alleluja.
Sing to the Lord a new song,
let his praise be in the church of the saints.
Alleluia.
Psalm 144 (Introit)
Sancti tui Domine benedicent
te gloriam regni tui dicent
Alleluja.
Your saints, Lord, will bless you
and speak of the glory of your kingdom
Alleluia.
The present edition adheres closely to the above mentioned source, noting editorial markings in parentheses. Voice parts, where notated in moveable clefs, were rewritten in treble clef; phrase markings in the voice parts were added where two or more notes occurred for a single syllable of text; textual underlay, given generally only in the soprano part, was added to the alto, tenor and bass parts.
This editor is indebted to the Bayerische Staatsbibliothek in Munich for granting permission to publish this modern performing edition.
Martin Banner
* instrumental score and parts (AMP 0921PS) are available from the publisher
instrumental ensemble: 2 horns in G, 2 violins, cello, bass and continuo
recording performed by the 2013 NAfME All–National High School Honor Choir
Rollo Dilworth, conductor