Chorus from Chandos Anthem No. 6, HMW 251b, Seventh movement
Composed by G.F. Handel
Edited by
Robert Duff
Voicing: Mixed voices
Instrumentation: keyboard
Catalog number: AMP 0885
Price: $1.80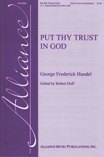 EDITORIAL NOTES
After arriving in London with a grand reputation as an opera composer, Handel soon proved that he was no less skilled as a composer of church music on a smaller scale. Handel's so-called Chandos Anthems were written as part of his duties as composer-in-residence at Cannons, the opulent mansion of the first Duke of Chandos, between 1717 and 1718.
This chorus is a short, accessible fugal chorus that can be used to teach succinctly, elements of Baroque counterpoint. The middle voice part can be sung by either altos, tenors, or perhaps best, a mixture of the two.
All the Chandos Anthems were composed for strings (without viola) and solo wind instruments, here solo oboe.
PERFORMANCE NOTES
I have suggested a few dynamics but otherwise left the score clean.
Observe word stresses carefully.
Allow some flexibility at concerted commas.
Locate all the suspensions and be sure to lean on them with little vibrato.
Use Handel's condensing of polyphonic entries to build intensity.
Allow long notes to blossom and decay as appropriate (missa di voce).
Robert Duff
recording performed by Handel Society of Dartmouth College
Dartmouth, New Hampshire
Robert Duff, conductor