Two Four-Voice Madrigals by Salamone Rossi (1570-1630)
Composed by Salamone Rossi
Edited by
David Howard
Voicing: SATB a cappella
Catalog number: AMP 0893
Price: $2.00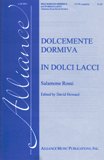 DOLCEMENTE DORMIVA and IN DOLCI LACCI
Two Four-Voice Madrigals by Salamone Rossi (1570-1630)
In the history of music, there exists no fully preserved polyphonic music by a Jewish composer until Salamone Rossi. In the quality and quantity of his compositions, and in his twofold abilities as composer and performer, Rossi is unique. The musicologist, Don Harron observed that, "No other Jewish musician of his stature and accomplishments is known from ancient times to the early seventeenth century; he was described, in fact, as the first to have restored music to its splendor in the Ancient Temple and as having David the psalmists as his forbear. Nor can any later Jewish composer, of the same caliber, be found until the nineteenth and twentieth centuries." Rossi's output includes thirteen printed collections containing five books of madrigals, canzonettas, chamber duets, four instrumental collections, and 33 unaccompanied polyphonic settings of liturgical Hebrew texts for use in synagogue worship and through which he is most often remembered today. Throughout his career, Rossi was associated with the Gonzaga court in Mantua, along with his contemporary, Claudio Monteverdi, as musician, singer, and composer, though as a Jew, Rossi never attained a regular appointment. "Dolcemente dormiva" and "In dolci lacci" are scored for four voices and basso seguente and were published in Madrigall a 4, Libro primo in 1614. Both madrigals illuminate Rossi's skill as a contrapuntist and his facility at word painting. In 1630, the Jewish ghetto in Mantua was destroyed by invading Austrian troops. Rossi either died in the destruction or shortly thereafter.
About this edition...
It seems very likely that both "Dolcemente dormiva" and "In dolci lacci" would have been originally performed using a STTB voicing. For the present edition, "Dolcemente dormiva" has been transposed up one whole step from the Dorian mode on G to Dorian on A to better facilitate the performance by contemporary choral altos. However, the director may decide to re–voice mm. 4–6 out of concern for balance. Similarly, "In dolci lacci" has been transposed upward one whole step to Mixolydian on A. The Dorian–Mixolydian relationship contributes to a nice pairing of the two madrigals with "In dolci lacci" following "Dolcemente dormiva". The editor has provided suggested rhythmic changes to allow for breath and proper phrasing.
Please look at the sample to see the text, translation and pronunciation guide.
performance by Stephen F. Austin A Cappella Choir , Nacogdoches, TX
David Howard, conductor