da "Cantiones Sacrae" Amsterdam 1619
Composed by Jan Pieterszoon Sweelinck
Edited by
Richard Bjella
Voicing: SSATB a cappella
Catalog number: AMP 0844
Price: $1.90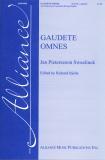 Gaudete omnes
Jan Pieterszoon Sweelinck
While being inspired by so many wonderful composers from Hildegard von Bingen of 12th century fame to the many fantastic composers living today, I must say that I have never found a choral piece of less than exceptional quality written by the pivotal Baroque Dutch composer, Jan Pieterszoon Sweelinck. He is best known for his superb keyboard works especially for organ and exceptional fugal writing, but Sweelinck's choral compositions are not to be taken lightly.
Sweelinck wrote some 250 choral works (madrigals, chansons, motets, and Psalm settings). They display incredible invention and inspired contrapuntal writing, though some may find them less daring than his keyboard works. One can almost hear and see the great improviser from Amsterdam as if he were in the room. Many of his works are accessible for high school choirs of all ages yet can challenge the best professional ensembles. I have performed this work with an ensemble of twelve, as well as with the 600-voice Iowa All-State Choir. His music works on so many levels with diverse ensembles of all sizes.
The suggested articulation markings and the dynamic suggestions are inspired by the composer's great attention to text painting in this motet. It is for each conductor to use or ignore as one sees fit. I trust you and your singers will enjoy the magnificence of this small motet and be inspired to look for more from this amazing (and often neglected) composer.