| | |
| --- | --- |
| | |
World, I Cannot Hold Thee Close Enough
Composed by
Colin Britt
Series Editor: Simon Carrington
Voicing: SATB a cappella
Catalog number: AMP 0847
Price: $1.80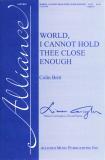 GOD'S WORLD

O World, I cannot hold thee close enough!
Thy winds, thy wide grey skies!
Thy mists, that roll and rise!
Thy woods, this autumn day, that ache and sag
And all but cry with colour! That gaunt crag
To crush! To lift the lean of that black bluff!
World, World, I cannot get thee close enough!
Long have I known a glory in it all,
But never knew I this;
Here such a passion is
As stretcheth me apart, -- Lord, I do fear
Thou'st made the world too beautiful this year;
My soul is all but out of me, -- let fall
No burning leaf; prithee, let no bird call.



This is the second of Colin Britt's delightful settings in my series of a poem by the American poet Edna St. Vincent Millay (1892-1950). As with "Afternoon on a Hill" (AMP 0805), we suggest a flexible tempo with plenty of rubato to give the effect of text being declaimed by an accomplished orator. The contrasts of color and tone in this setting can be more dramatic to underline the difference between exuberant outburst and reflective contemplation, while care should always be taken to maintain excellent chordal balance however the voices are divided.
Simon Carrington
performance by Chamber Chorus of the Yale Camerata
New Haven, Connecticut
Marguerite Brooks, director