Composed by Henrique Oswald
Edited by Susana Cecilia Igayara
Series Editor:
Elaine Quilichini
Voicing: SSAA
Instrumentation: organ ad libitum
Catalog number: AMP 0831
Price: $1.70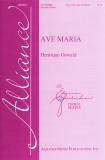 Henrique Oswald was born in Rio de Janeiro in 1852. His Swiss-born father established a brewery in Brazil and later became an importer of pianos. His mother was Italian and was a very talented singer. She worked as a piano teacher as well as a language instructor. Henrique Oswald was educated in S&atillde;o Paulo, Brazil. He had the opportunity to study music with European pianists that were living there at the time. In 1878, he received a scholarship from the emperor of Brazil, Pedro II, and stayed in Europe until the beginning of the Republic. In 1903, he returned to Brazil and joined the board of the National Institute of Music, first as director and later as a piano teacher. He continued to teach and compose until his death in 1931.
This "Ave Maria" was written in 1913, the same year he composed "Magnificat" and "O Salutaris Hostia." These three small pieces were his first attempts at sacred music. At this point in his career, he was fully recognized as a composer of chamber music, symphonic works, opera, and piano works. In 1925, he wrote two masses, the most important pieces of his sacred music, and in 1930, he wrote three other small motets for treble voices. He also wrote versions for men's choir of these three later pieces.
Translation:
Hail Mary, full of grace, the Lord is with you. You are blessed among women, and blessed is the fruit of your womb, Jesus. Holy Mary, mother of God, pray for us sinners, now and at the hour of our death. Amen.