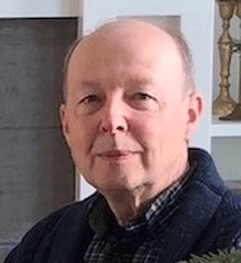 D. Geoffrey Bell made his Canadian national debut as a composer in 1981 at the age of 25. His "Missa Brevis" was the centerpiece of a nationwide broadcast on CBC-FM's "Celebration" program.
Over his 38-year teaching career he wrote a number of works for children's choirs, many of which were published by reputable choral music publishers in Canada and the United States. Over the years he began to explore a greater variety of choral ensembles; larger, more serious concert works; and music for instrumental ensembles, including intimate chamber and orchestral works. His music has been performed in concert in Canada, the United States and Australia, and of course, on YouTube.
Geoffrey's compositions have been premiered by the Vancouver Chamber Choir and London Pro Musica. Four world premier performances of new works are scheduled for the 2022-23 concert season: "The Cloths of Heaven" by Ensemble Resonance in Calgary; "The Commanded Heart" for the Unison Choruses Canada Festival in Halifax; and "Come With Me to the Sea" by Amabile Choirs in London, Ontario. "Harp Improvisation #1: Introspection" had its YouTube debut by American harpist Danielle Kuntz in December, 2022.
Choral Canada's Anacrusis magazine and the American Choral Directors Association Choral Journal have published two of his articles: "Dialogue With Three Distinguished Canadian Choral Composers", and "Dialogue With Five Contemporary Canadian Composers". Other published and online articles include "How to Commission a New Piece of Choral Music" and "What Happens to My Royalties When I Die?" The ACDA blog also published his article, "From India Ink to Digital Bits", which explores the effect of the electronic revolution on music today, and challenges contemporary choral conductors to experiment with the fusion of electronic and choral music!
Geoffrey is an Emeritus Member of the Canadian League of Composers.
Further information and his complete catalogue can be found at www. dgeoffreybell.com