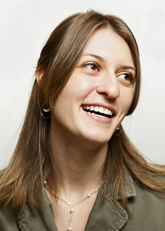 Marie-Claire Saindon is a Franco-Ontarian composer based in Montréal. She began creating in high school, where she wrote and produced her first musical, Jeanne (Joan of Arc). She continued to participate in many collaborations, from writing choral pieces, to scoring short films and full-length documentaries, to accompanying dancers, to fiddling in a team of folk musicians on a historical steam train. She sang in the award-winning female vocal ensemble Concerto Della Donna, led by acclaimed choral director Iwan Edwards.
Ms. Saindon holds a BMus: Composition from the Schulich School of Music (McGill) and an MMus: Composition - Film and Multimedia music from Université de Montréal.
Winner of the SOCAN Young Composers' National Awards in the vocal category (2013), the Gregg Smith National Choral Composition Contest (2015), the Canadian Choral Composition Competition hosted by Chor Leoni (2018), the Ruth Watson Henderson Choral Composition Competition (2018), the inaugural Eastern Horizon Composition Competition (2018) and the Hong Kong Children's Choir 50th Anniversary Composition Competition (2018), her choral works are published with Boosey & Hawkes, Cypress Choral Music, Earthsong Choral Music, Hal Leonard Choral, and Alliance Music Publications.
Ms. Saindon currently scores films, composes choral commissions, and is composer-in-residence for the Montreal upper-voice ensemble Choeur Adleisia.